As homeowners, it's terrible to be plagued by a non-functioning garage door. Not only is the main entrance to your home blocked, but your vehicles might be stuck inside, unable to access them. If this ever happens to you, put your mind at ease by contacting the best in the business at Garage Door in My Area. We have years of experience servicing, repairing and maintaining every issue you can think of when it comes to garage doors. From broken roller replacement to tune-ups, cable repairs and weatherstripping, we do it all the right way with a smile – every time. Contact us now at (855) 553-3667 to speak directly to one of our garage door repair professionals and book an appointment, or get any of your questions answered.
Garage Door Installation Services
When your old garage door wears out and needs to be replaced, it's a big decision as to what kind of new one you should get for your home. You probably have a lot of questions, such as:
Do you want a door made from wood, aluminum, steel, or even glass?

Is the price affordable?

Will our new door be safe for everyday family use, while offering a secure main entrance to our home?

What's the best type of insulation for your new door?

Will there be windows on your garage door? If so, how many and what type?

What about openers, keyless entry, sensor technology, and all the accessories?

Do you want a new Smart Door, with the ability to connect to your mobile device and the rest of the smart devices in your home, if you have them?
These are all questions we take pleasure in answering for you. We have years of experience installing all of the popular brands of garage doors, in all styles, colors and accessories. We will make sure your new door is the perfect fit for your home.
24/7 Emergency On-Call Garage Door Repair Services
A broken or non-functioning garage door is not just a big headache and an inconvenience, it can be a very dangerous safety concern – especially if you have young children or pets that come in and out frequently. The worst can be if it happens during the middle of the night, on a holiday when everyone else is off from work, or if there's inclement weather. Because of your need to get your broken door fixed as soon as possible, we offer 24/7 emergency on-call garage door repair services to all of our customers in the Orange County area and beyond. We'll return your emergency call within 60 minutes or less, and we'll even give you a free estimate. All of our technicians are highly skilled and professional, and we are always on call to make sure your door is back up and running smoothly in no time. You can't trust the safety and security of your garage door to just anyone, call the best in the business at Garage Door in My Area.
Garage Door Openers
It is frustrating when your garage door refuses to open. What could possibly be the issue? You have a beautiful garage, but you can't even park your car inside. The skilled team at Garage Door in My Area is here to help. Whether you need a new garage door opener installed, an old one repaired, or just routine inspection – we've got you covered. We take the guesswork out of cost by offering a free, upfront price quote before we start work on any job. Give us a call today and we'd be happy to answer any of your questions.
We have years of experience installing, servicing and inspecting the following garage door opener brands:
Craftsman

Sommer

Guardian

Chamber

Linear

Stanley

Liftmaster

Genine

And More
Broken Rollers and Springs Replacement
For years now, Garage Door in my area has serviced the Orange County and surrounding areas, keeping customers safe and happy in the process. Don't settle for less, and don't trust the repair of your garage door to just anyone. Broken or worn out garage door rollers and springs might not seem like a huge issue to some homeowners until these malfunctioning parts cause your door to fall off the tracks and potentially cause catastrophic issues. Repairing broken or worn out rollers and springs on your garage door is a relatively quick and easy job, but it's most certainly not to be taken lightly. Even if it's a weekend, holiday, or off-hours – do not wait, call us today if your garage door rollers and springs need to be replaced. We are on call 24/7 and we are always attentive to your needs, providing upfront pricing and accurate repair time assessments.
Garage Door Weather Stripping
You wouldn't hesitate to insulate the walls of your home, and you shouldn't do so when it comes to the weather stripping of your garage door, but you might be surprised to learn that many otherwise conscientious homeowners neglect to insulate their garage doors. The right kind of durable, high-quality weather strips will keep dirt, debris and water from entering your garage area. Additionally, proper weather stripping of your garage door will help keep your house cool in the summer and warm in the winter, saving you money on energy costs. At Garage Door In My Area, we are the best at what we do because we have years of experience doing it. We always give every one of our customers upfront, fair prices and free estimates, coupled with quick repair times and friendly service. Give us a call today if you have any questions about the crucial weather stripping of your garage door.  
Damaged Garage Door Tracks
Garage Door in My Area is the trusted name in all things garage door repair and installation in the greater Orange County Area. There are many working parts and components that factor into a highly-functional garage door, and the tracks are one of the most important. Your car won't make it too far with flat tires, and your garage door won't open or close correctly if you have damaged or worn out tracks. The tracks that your garage door sits upon take a lot of stress and impact over the years, so don't be surprised if they need to be repaired or replaced periodically. Whether it's the entire track on both sides or just one section that is damaged and needs replacing, we have your back. We guaranteed prompt, high-quality service for every job we work on. Give us a call today to book an appointment to repair your damaged garage door tracks or to ask us any questions you may have.
Garage Door Inspections and Tune-Ups
Most homeowners only call a Garage Door Repair specialist when something needs to be repaired with their door, or if they are in the market for a brand new one. This makes logical sense, but most people have the tendency to not notice a potential issue with their garage door that can eventually spell big-time problems if left unchecked or ignored. For this reason, we recommend scheduling a garage door inspection and tune-up once every year or two. You shouldn't have to deal with the big inconvenience of a non-functional garage door, and regular inspections and tune-ups can help you avoid that. We love to see homeowners taking extra care and attention to their garage doors. If you want to be one of them, give us a call today, and we'd be happy to inspect your garage door at an affordable price.
Garage Door Cable Repair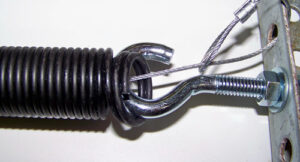 Similar to the high pressure, high traffic nature of your garage door tracks, your cables are prone to a high level of wear and tear as well. This is especially true as your garage door ages. The last thing you need as a homeowner is for your garage door cable to come crashing down due to being worn out or broken. The safety and security of our customers are of the utmost importance to the highly-trained, licensed technicians at Garage Door in My Area. This is why we respond ASAP to every call we get regarding a garage door cable repair. If you think the cables of your garage door might be worn out and need of repair, don't wait another minute – call us today and we will be happy to answer questions and come out to your home to address any issue.
Garage Door Panel Replacement
Typically, a broken panel of your garage door will be an accident, such as running into it with the car, or if the kids are playing in the driveway. Replacing broken garage door panels is highly important. This is because if you let it go, it will cause a ripple effect and just compound your singular problem into more and more bigger ones that will be increasingly difficult to deal with. Trying to operate a garage door that has broken or missing panels could spell disaster in the long run. Whether it's just one single garage door panels or multiple ones that need to be replaced, we do it all. You can rest assured that you're in good hands calling the pros at Garage Door in My Area to handle all of your garage door panel replacement needs. Give us a call today to get your questions answered or to make an appointment to repair your garage door panel.
Gate Repair and Installations
Just like a garage door is the entry-way to many homes, gates are as well. Rolling gates offer increased security and peace of mind to homeowners that garage doors might not be able to. In the same respect that all of our technicians are highly trained and skilled when it comes to all aspects of garage door repair and installation, the same applies to our expertise in gate repairs and installations. As a hard-working homeowner, you deserve to know that both your garage door and your gate will open and close smoothly, every time you operate it. As is the case with all of our services, we are the best in the business at gate repair and installations. We offer 24/7, gate repair if you should ever run into any kind of emergency. Don't hesitate to call us at any hour. We guarantee a response in under an hour to all emergency calls.
We Serve the Following Locations:
| | | |
| --- | --- | --- |
| Aliso Viejo, CA | Costa Mesa, CA | Irvine, CA |
| Santa Ana, CA | Fountain Valley, CA | Newport Beach, CA |
| Newport Coast, CA | Seal Beach, CA | Garden Grove, CA |
| Orange County, CA | Tustin, CA | Huntington Beach, CA |